Kartik Diary 12
Govardhana Parikrama

The Killing of the Demon Aghasura

Vraja Mandala Parikrama 06

How Giriraja came to Bless us with His Presence



Dear Devotees
Jay Sri Radhe!

Yesterday was Govardhana parikrama. It was the third time for me during our visit to the Holy Dham. We had three options, a quick walking party without stops at the different temples and pastime places. This party was headed by Gopal Krishna Maharaja. This choice was out of question because Maharaja is well known for his brisk pace. We would certainly had problems keeping up with him.

The second choice was Dhina Bandhu with a driving bus party. This party was driving from pastime place to pastime place around Giriraja and Dhina Bandhu would speak. This would have been the party to join, however, Nandini Radha Mataji did not do the earlier parikrama around Govardhana Hill. Therefore we decided to join Bhakti Visrambhara Madhava Maharaja with his slow track walking parikrama around the 22 kilometer periphery of Giri Govardhana.

It soon turned out that this slow track parikrama was not as slow as we thought as Maharaja lost himself in talking and we had to catch up afterwards as there were prasadam arrangements near Govinda Kunda. I soon felt sorry that I did not join Dhina Bandhu's group. Even with keeping my shoes on most of the time it became soon obvious that it would certainly be a difficult task. And it was.

I had for the first time the chance to visit the ISKCON Govardhana temple I heard much about but I was never able to see it before. The temple houses two beautiful Govardhana Silas, Krishna and Balarama and some very charming chubby Gaura Nitai deities. It is situated right next to Sri Giriraja in a most enchanting environment. One can overlook Giriraja from the balcony of the ashram. A very beautiful and historically significant place. It also houses the pushpa samadhi of Tamal Krishna Maharaja.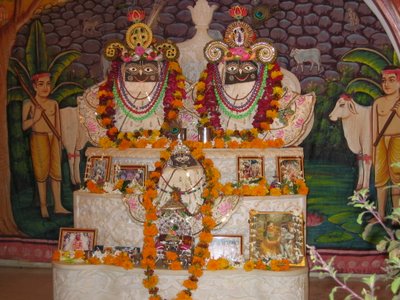 On the way out I bumped my toe which was bleeding. What a great start for a 22 km walk! Bandaging it up and taking some photos of this most beautiful side of Giriraja I soon lost the by then scattered group of devotees. I was not worried as I by now know how to get around Govardhana. Soon I met Nandini Radha and a group of three devotees from California and Canada who were in India for their first time. I really admired them for going barefoot and they said they had not much choice as their spiritual master Bir Krishna Goswami requested them to do so.

Soon we realised that we were all lost. Maharaja was nowhere to be seen and devotees turned to me to guide them. The young Californian couple had a map with them but I think it did not help too much. At one point we came too far to the outer road but soon reached the inner path again. I remember Maharaja saying and quoting from scripture that whoever reaches the town of Aniyor will not take birth again in this material world.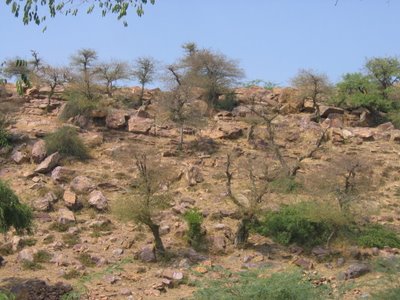 We certainly came to Aniyor the place where Krishna manifested the gigantic form of Giriraja to accept the offerings of the Brajabasis after He put down the hill and the cowherd folk offered Him all kind of foodstuff. This is also known and described in Krishna Book as the Annakuta ceremony. When all the food run out this gigantic Giriraja said 'aniyor, aniyor - more, more!' Only when Balarama offered some tulsi leafs was Giriraja satisfied. Being happy to reach Aniyor we thought 'no more birth in this material world!' Haribol! I have learned that this kind of sastric statements are no exaggeration, they are a fact.

After some time we had a feeling that we were actually ahead of our party. Maharaja must have taken a side path to some hidden temple and we must have overtaken him which turned out later to be a fact. Walking became more and more difficult and I again admired the young couple for going barefoot. It reminded me on my Govardhana parikrama two years ago when I went barefoot without even taking shoes with me in full enthusiasm. At that time I met Adhikarta Prabhu from the UK who said to me then 'you are a very brave man'. Little did I know at this point how right he was.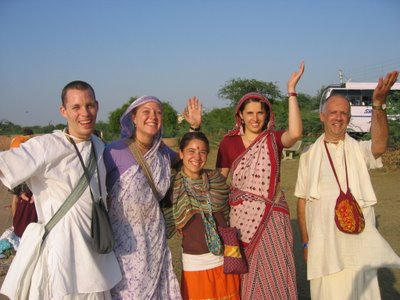 The hot sand and asphalt road is actually burning ones feet to blisters. On that parikrama I stepped in my desperation into cow dung which gave my feet some protective layer from the hot ground. This time it was shoes in wise anticipation. I always wondered why some devotees did the parikrama with socks. Now I understand that it is a protection against the heat. Some time I may try that also but I felt it was better to go with sandals and meditate on Giriraja than to go barefoot and think on ones feet constantly.

I have to say that the entire 22 km parikrama is certainly a feat even with shoes on. However, we made it ... just. Had that rickshaw wala accepted 100 Rupees instead of the 125 he asked for it would have been a rickshaw parikrama in its last and most difficult stage just before Uddhava Kunda. I am happy he did ask 125. When we finally arrived at Kusum Sarovar, kusum means flower and sarovar is a lake somewhat larger than a kunda. At this place the gopis used to collect flowers for their meeting with Krishna at Radha Kunda. It is also the place where Narada Muni dipped into the water and became a gopi so he could see the Rasa Dance. Finishing our parikrama successfully we dipped into Kusum Sarovar just as Narada did and came out refreshed and satisfied.

It took me a day to somewhat recover from the akes and pains of the parikrama but I still managed to get up for mangal arati knowing well that we have only two days left in this cintamani dham, the holiest of all holy places, Krishna's very own abode.

The next three days are dedicated to the celebration of Srila Prabhtpada's disappearance. Since Diwali the number of devotees and pilgrims from around the world has been steadily increasing. There must be thousands by now. This morning one could hardly enter the temple. Everyone seems to have come to Vrindavan to celebrate Srila Prabhupada's glorious departure from our external vision. The Damodarastakam prayers and evening arati were led by Vayasakhi Prabhu who paid a surprise visit to Vrindavan. The crowd of thousands of devotees got wild by his ecstatic kirtan which continued late into the night. It is an unforgettable experience.

Jay Sri Sri Radheee Syam!

With love and affection,

Your servant in the service of Srila Prabhupada,

Gauranga Sundara Das