Kartik Diary 13
Jay Srila Prabhupada

Vibhavari Sesa

Touchstone

Jaya Madhava Madana Murari 2
Dear Devotees
Jay Sri Radhe!

Today is our second last day in the Holy Dham of Vrindavan. The three day Srila Prabhupada festival is in full swing. After greeting the deities devotees placed Srila Prabhupada in his murti form on the very same palanquin that took him around Vrindavan after his physical departure from this mortal world. The procession took Srila Prabhupada to the seven major Goswami temples of Vrindavan. I was unfortunately not able to participate as Bhakta Jimmy was not well after our Govardhana parikrama and I had to arrange some flat rice, bananas and yogurt for him. Today Jimmy feels much better. However, Nandini went with the procession for the three hour parikrama where she even got a chance to fan Srila Prabhupada.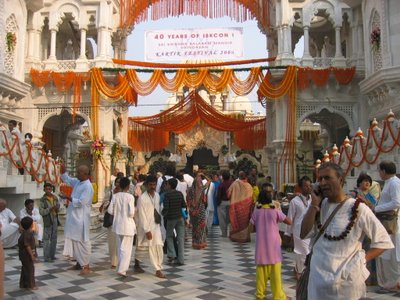 There is a program tonight where Yadhubar Prabhu will show his latest film on Srila Prabhupada and the early days of the Hare Krishna movement. It promises to be a real treat I am told. There is no more parikrama as devotees celebrate Srila Prabhupada's glorious departure in his physical vapu form. It fills our hearts with profound sadness due to separation and at the same time with great joy of having such a divine master.

Srila Bhaktivinoda Thakura wrote in this connection:

"He reasons ill who says that Vaishnavas die,
When thou art living still in sound!
The Vaishnavas die to live, and living try
To spread the holy name around."

There is no doubt that Srila Prabhupada is still with us through his vani or instructions, which is superior due to its timeless nature. It is is this timeless mercy presence which is available to all at any time. Or as Srila Prabhupada spoke about his relationship with his spiritual master: 'I feel the presence of my spiritual master right by my side'.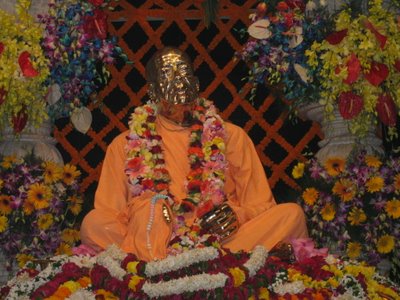 It turned out that the film was absolutely fantastic. We have secured a copy of it and will make it available to you all in due course. We have by now collected so much nectar that it will keep us and hopefully also you inspired for a long time to come.

I pray that this humble posting meets you all in good health and in a happy Krishna conscious mood.

With love and affection,

Your servant in the service of Srila Prabhupada,

Gauranga Sundara Das