Kartik Diary 14
Good Bye Vrindavan Dham

Mangala Arati - Srila Prabhupada's Disappearance Day

Vraja Mandala Parikrama 07

Ghanshyam



Dear Devotees
Jay Sri Radhe!

Yesterdays celebration of Srila Prabhupada's glorious and divine disappearance marked the last day of our stay in Vrindavan. It was very inspiring to hear so many wonderful stories about and with Srila Prabhupada from a host of sannyasis and senior devotees. Bhakti Vaibhava Puri Maharaja from the Gaudiya Math also came to glorify Srila Prabhupada and offer his respects. Maharaja is a is one of the few remaining god brothers of Srila Prabhupada and is well over 90 years old.

At midday devotees were given the opportunity to take part in the abhisheka bathing ceremony of Srila Prabhupada, which took place in his Samadhi Mandir. In the evening devotees assembled in Srila Prabhupada's quarters for his final disappearance pastime. Devotees had made some incredible flower arrangements. The atmosphere became more and more intense when the actual time of his disappearance approached.

Devotees gathered around Srila Prabhupada's bed and chanted softly with choked voices. There was hardly an eye which which remained dry. Thereafter Gopal Krishna Maharaja placed the very same gray chaddar which covered Srila Prabhupada in ìs final hour on everyone's head. Then devotees circumambulated Srila Prabhupada's bed and touched their head to the place where Srila Prabhupada's lotus feet had rested. It was a very intimate and emotional experience. Srila Prabhupada Ki Jaya!

Yesterday morning we slipped out of Vrindavan the same way we slipped in, namely quietly and unnoticed at mangal arati time, - a last close darshan of Sri Sri Gaura Nitai, Krishna and Balarama and the most merciful and beloved Srimati Radhika and Syamasundara. It reminded me of how Narada Muni had his close darshan of Radhe Shyam and the Rasa Dance. Vrindadevi took mercy on him and dipped him into Kusum Sarovar. He emerged from the sacred waters as the gopi Naradi and was thus qualified to witness the intimate pastimes of the divine couple. By Srila Prabhupada's unique and unparalleled mercy we had also the great fortune to be dipped in the nectar ocean of the chanting of the holy name and thus we became qualified to get a glimpse of Krishna's pastimes in His very own abode Sri Vrindavan Dham. Jay Sri Sri Radheee Shyam!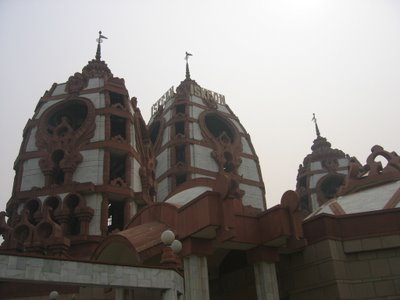 Arriving in Delhi we went straight to the Radha Partha-Sarathi Mandir, the ISKCON temple in Delhi. One can see the temple domes with their unique design and architecture from far away. After taking darshan we visited the Vedic Expo and Govinda's restaurant. In the afternoon we took part in the Delhi Ratha Yatra after which we paid a visit to the famous Swami Narayan Aksha Dham.

It was truly an amazing visit to this spiritual Disneyland with its many displays on Vedic culture and art. It took 7000 craftsmen five years to create this marvel of Indian Vedic heritage which i can only recommend to everyone for a visit. It is a vast complex and took us five hours without even seeing everything. Our favourite was the musical fountain, a display of water, light, colour and music. It was a spectacle on a grand scale and was certainly unique. We have never seen anything alike. Unfortunately cameras were not allowed into the complex. In fact security was so stringent that Heathrow airport's security even in its best times appeared to be dwarfed by these arrangements.

We also had the opportunity to see the famous film 'Mystic India' which we long wanted to watch in Birmingham but never came around to do so. I can only recommend it warmely. Last not least there was a boat ride through underground caves and tunnels. It depicted the whole of Vedic history, art, craft, science and culture, - all of it in the form of dioramas, in life size and with English or Hindi commentary. It is certainly an impressive preaching tool for the millions who visit Aksha Dham annually.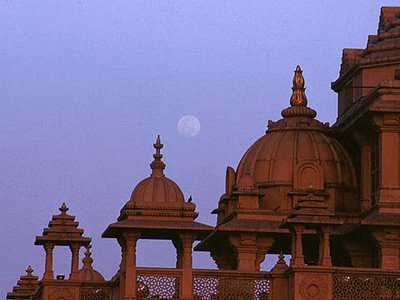 Five hours later we emerged from this most impressive spiritual Disney World and returned to the temple and our Krishna Residency Guest House. Early next morning we took a taxi to Delhi's domestic airport and arrived late afternoon in Sri Dham Mayapur, Lord Gauranga's special place of mercy. Sri Caitanya Mahaprabhu Ki Jaya! Sri Sri Radha Madhava Ki Jaya! Sri Sri Panca Tattva Ki Jaya! Sri Nrisimhadeva Bhagavan Ki Jaya!

With love and affection,

Your servant in the service of Srila Prabhupada,

Gauranga Sundara Das