Kartik Diary 7
Ekadasi

Vrindavan Tunes by Madhava das

Jaya Radhe Jaya Krishna



Dear Devotees
Jay Sri Radhe!

For those who don't know I am writing this short digest or diary from the Holy Dham of Vrindavan by using my mobile phone. Today is ekadasi. There was no scheduled parikrama. However, every ekadasi the whole town of Vrindavan is on their feet to circumambulate the sacred town.

There is a parikrama marg or road, which goes right around Vrindavan. We started early just after mangal arati and it was still dark. After walking for a while the first light appeared on the eastern horizon and with it more and more Brajabasis join us in this auspicious ekadasi parikrama. Slowly all sorts of stalls start to appear and loudspeakers blear their various messages into the ether.

Then there are rows of sadhus, some may call them beggars, who line up the parikrama path to get their share from the pious pilgrims. It's impossible to satisfy them all. Only Nanda Maharaja could do that on the auspicious occasion of Krishna's birth when he distributed so much wealth that people actually felt embarrassed to accept it.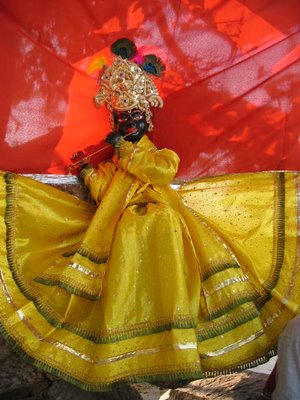 Ekadasi is a big day for Vrindaban in every respect. The entire circumambulation of Vrindaban takes around 3 hours. Then there are the various sounds coming from inside the temples and ashramas when the purusha sukta prayers are chanted or the early morning puja is performed. It is certainly true when it is said that in Vrindavan it is actually difficult to forget Krishna.

Today we have decided not to take part in the Jaipur yatra, firstly it actually takes place when we travel to Mayapur and secondly it works out rather expensive for our tight budget. Instead we will spend one day in Delhi and visit our ISKCON Mandir with Sri Sri Radha Partha Sarati and perhaps see the new and spectacular Swami Narayan Aksha Dham.

With love and affection,

Your servant in the servic of Srila Prabhupada,

Gauranga Sundara Das