Kartik Diary 8
Srimati Radharani's Bouquet


Life in Vrindavan - Aindra

I like Vrindavan - Rashik Priya - www.rashikmusic.com


Mahamantra from the Far East

Prayers by Queen Kunti

Kirtanmisto

Vraja Mandala Parikrama 04

Jay Sri Radhe!

Today was no parikrama. It appears Jimmy is down with the flue. The weather in Vrindavan is changing. The mornings are colder and the morning shower at 3:30 am is colder too. We have been able to attend the full morning program so far. The days in the Holy Dham are priceless treasures. We have only 10 days left in Vrindaban. Every minute counts. We booked our flight to Calcutta today. It turned out to be almost the same price as by train. On 28th we will be in Mayapur. We have learned that the flood is already down and the clean-up operation is in full swing. Devotees are used to this kind of thing.

This evening we went to Damodara arati as usual. It is a wonderful sight to see hundreds of devotees offering their dipa lamps. It appears just like an ocean of moving stars floating from one altar to the next.

I stand usually at Radha Syamasundara's altar. Srimati Radhika looks so very enchantingly beautiful and Syamasundar is deeply immersed in loving emotions. My little corner on the left of Their altar seems to be the best place in the entire universe.

This is not to say that Krishna and Balarama are not beautiful, They are but in a different way. Standing in my little corner at Radha Syamasundara's lotus feet i usually get a garland from Their altar. These garlands are much sought after. There is a limited number of them but a seemingly unlimited number of devotees who want them. My strategy is to wait patiently and pray. And it works!

Srimati Radhika is mercy personified and she will reciprocate with ones derires. I have tried it many times and it works perfectly every time, may it be a flower garland, a fruit from the altar or the transcendental gift of Sri Giriraja some many years ago. That is where I discovered it on the kind advice of Govinda Maharaja. This is Vrindaban Dham, a replica of the spiritual world, Chintamani Dham, where the cows are surabhi cows and the trees are kalpa vriksa or wish fulfilling trees. It's the Lord's own abode, it is the spiritual world hidden behind a curtain of rickshaws, tuting cars and much other busy bargaining and shouting.

This evening I had to try it again. I saw the pujari taking off so many garlands but he also took off Srimati Radhika's flower bouquet from her very own lotus hand and hid it somewhat behind the pile of garlands hanging over his arm. At that moment i thought please Srimati Radhika let me have your bouquet. I think i wanted more to test her reciprocation than to have the bouquet itself. Just see the lack of faith!

The pujari skillfully hid the bouquet till the very end and till he had thrown out the garlands into the ocean of jostling and pushing devotees, hands raised to catch a drop of that nectar which even the demigods fight over.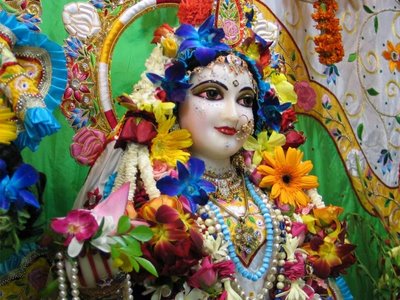 And then it was time for Srimati Radhika's bouquet to fly into the crowd. I jumped with a shout and before I knew it it was in my hand. I held it high above my head as it may have been torn to pieces by the many desiring hands otherwise. It is needless to say that the bouquet went to many noses, to many eyes and on many foreheads. It is also needless to say that I did not let go of it all the while treasuring it as an invaluable gift from Srimati Radhika.

Now I am thinking if Srimati Radhika reciprocates with such a small desire I may well have a chance that she may grant me pure devotional service at one point in some life time. I pray that she may fulfil all your desires you told me to pray for and all those you didn't tell me about. Most of all I pray that she may bestow pure devotional service upon all of you.

Come to Vrindaban, the spiritual world, and try it out for yourself, it works for everyone!

Jay Jay Sri Radheeeee Syam!